Glice rinks are designed in Switzerland and used all over the world. Today, the company can proudly say that they have installed over 2,500 rinks in more than 85 countries, making them the market leader for premium synthetic ice.
But what makes Glice so unique? And how do they create a great visitor experience? Continue reading to find out more!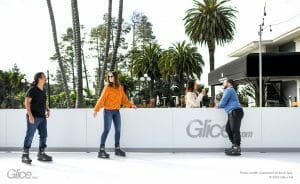 Glice rink at the Claremont Hotel, US
Many countries have the tradition of installing municipal ice rinks during winter; from schools to Government federations to mayors and City councils, typically set up for citizens and visitors around Christmas time or special events.
Traditionally, municipal ice rinks used natural ice. However, using natural ice is not always convenient, as it creates a limited skating time during summer and has very high energy and operating costs. Transitioning to synthetic ice allows rink operators to increase the ice time, not only in winter but also in summer.
Let us take a look at an example. Imagine a rink operator decides to invest in a 200 m² rink, and in their home country, the electricity cost is 0.36€ ($0.35). With a Glice rink, they will be saving 9,600 kWh per month, and with that, 3,454.84 € ($3,350) on electricity thanks to the synthetic ice. These figures are obtained through a formula that says that every day, about 1.6-kilowatt hours are used per square meter to keep an ice rink in operation. In this case, 320 kWh would have to be used daily for this 200 m² ice rink. And if you multiply this number by the average number of days a month, you get the number of kWh that this ice rink can save per month.
Furthermore, this 200 m² would also be able to save: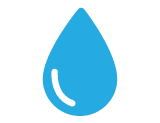 1.000 liters / ≈ 246 gallons of water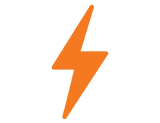 Average energy consumption of 200 households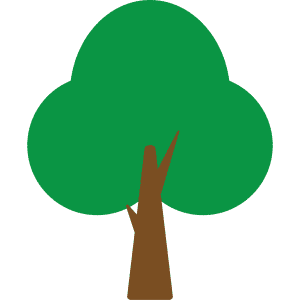 100 trees have been planted with this rink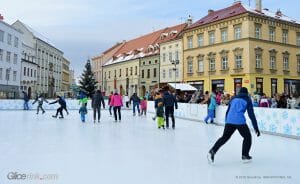 Glice rink in Znojmo, Czech Republic
Another advantage that Glice synthetic ice has is that it is entirely environmentally friendly and is a carbon-neutral company. That means the ice rinks do not use water or electricity, allowing rink owners to save money on those costs. Additionally, as the ice does not need to be resurfaced, you can say goodbye to the time-consuming resurfacing and Zambonis (which can also be more costly than we like).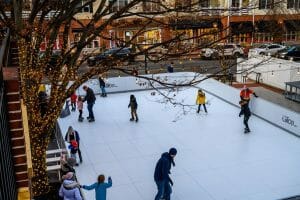 Glice rink at Palmer Square in Princeton, US
The reasons for choosing a Glice synthetic ice rink are endless. The brand is well known for its Swiss and German manufacturing and professionalism, which was one of the reasons why a German indoor ice rink operator decided to install an eco ice rink. Glice set up Germany's largest indoor ice rink in Ludwigsburg. However, municipalities all over the world can install a Glice rink thanks to the global service and support they offer. Glice operates in over 85 countries and has representatives in almost as many countries who help to set up the ice rinks.
Check out the blog post on the ice rink in Ludwigsburg to understand why Glice is a good choice as a municipal rink.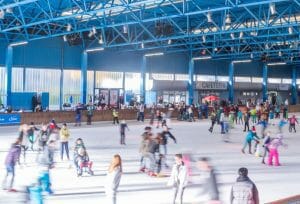 Glice rink in Ludwigsburg, Germany
Other institutions that are frequently on the hunt for new entertaining amenities are shopping malls. Either mall managers or even event managers are interested in attracting more shoppers, which means the malls will generate more sales. To do that, it is necessary to offer a unique activity that helps to differentiate oneself from the competition.
And what better way to do that than by being the host of an environmentally friendly ice rink suited for any age?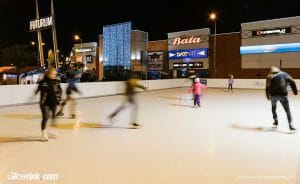 Glice rink at Futurum Mall, Czech Republic
It is no secret that an ice rink is a fun and entertaining activity that helps take a break from all the shopping that sometimes be pretty exhausting. In addition, a unique rink, like Glice's, will make people remember a mall as they will link their shopping experience to the fun they had on the ice. This way, rink operators in shopping malls will be able to attract more customers and, most importantly, repeatedly regular customers.
However, like in any other inside space not specifically designed for ice skating, malls usually face the problem of having limited physical space or even a limited budget. Traditional ice rinks are very cost-heavy and need a lot of space, not only for the rink itself but also for the machines that keep them running (and let's not talk about the big resurfacing machines that need to be stored somewhere as well).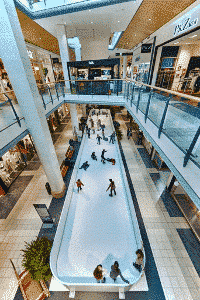 Glice rink at Emmen Center, Switzerland
Well, we have good news! Glice rinks are very simple and quick to install, and because they are set up by connecting different panels, they are adaptable and can be installed on any floor or location. Furthermore, they are entirely eco-friendly; the Swiss company plants one tree for every panel they produce – a project they call Skate for the Planet.
We recommend you read about how Glice is ideally suited for shopping malls in this blog post that explains a Swiss and a Spanish shopping center that decided to go for a Glice rink.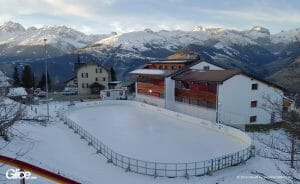 Glice rink at a Ski Resort in Mörlialp, Switzerland
The hospitality sector is another one that can profit highly from installing a Glice rink. General hotel managers, or event managers, are always looking for ways to create better brand awareness for a hotel or to bring in more people by offering a unique attraction.
Ice rinks are, as we already know, very family-friendly amenities that will always attract that type of customer and help a hotel increase its revenues. But, not only families enjoy this type of entertainment; if a skating rink is installed in a location with, for example, scenic views, it can rapidly become an "instagrammable" hot spot that will attract all kinds of people.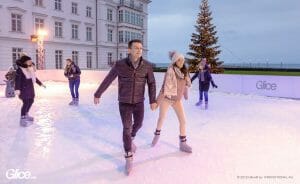 Glice rink at the Grand Hotel Heiligendamm, Germany
Increasing a hotel's revenue through the Glice Ice Rink – adding other rink-related amenities could increase revenue even more. An example would be the William Vale Hotel in New York, a hotel that decided to offer different types of drinks and food right next to the ice rink, so getting off the ice and enjoying a wintery drink or meal is possible there too, check it out for yourself!
Other advantages of Glice are that the company offers local support that will help hotels to train their staff, an online training course called the Glice Academy and the Swiss company also allows a lot of flexibility – the synthetic ice rinks can be installed anywhere and taken apart and stored easily. Furthermore, Glice rinks are fully customizable with an elegant high-end design, definitely a great addition to a hotel.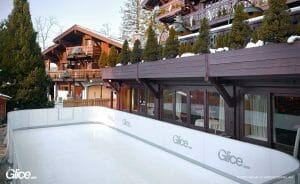 Glice rink at Four Seasons Hotel Megève, France
Other typical Glice customers are hockey training centers; they can be part of a private coaching facility, a club, gyms, or public training facilities. Glice helps create a place where athletes of all ages can practice, improve their skills, and become the best version of themselves.
All ice-loving athletes have to fight with the limited ice time… Glice answers that demand in the best way possible with their waterless alternative to traditional ice – depending on the weather circumstances or cooling machines.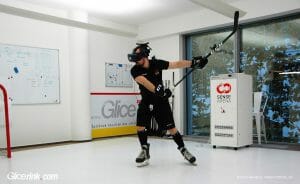 Glice rink in Sense Arena, Czech Republic
Therefore, maintaining traditional ice rinks can be very costly, and training sessions always need to be interrupted for resurfacing. Glice offers operators of hockey training centers to run their businesses with less running costs. On top of that, like in any other case, the synthetic ice rinks can be adapted to specific needs, and Glice can help create focused training areas with different aims. You can find an example in the Glice Elite Hockey Center at the HC Davos in Switzerland. They provide on and off-ice training tools to keep their players in the best shape.
And, if a hockey center ever decides to expand and become bigger, Glice offers a scalable solution. The rinks can be expanded without problems and adapted to every circumstance.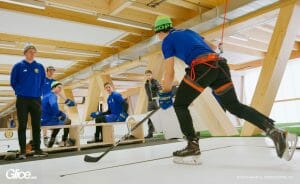 Glice rink at the Hockey Center at HC Davos, Switzerland
Glice rinks are known for their durability, which means that a Glice hockey training center can continue running for many years as long as the maintenance is well taken care of. To ensure that, operators can always contact Glice's local support, who will always offer their advice and help.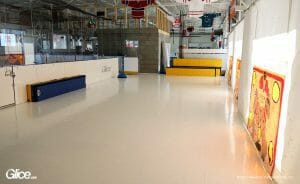 Glice rink in a Hockey Training Center in Prague, Czech Republic
Lastly, the Christmas holidays are probably the most common reason for setting up an ice rink. But, Christmas should not be the only reason for going ice skating. An ice rink should and is being installed for many other holiday events.
Even companies, local councils, or tourist boards are becoming more and more interested in offering an attraction that increases foot traffic and promotes the local area.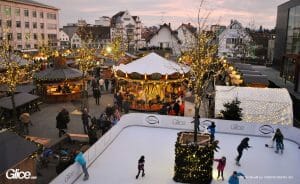 Glice rink at a Christmas Market, Germany
Even though these might seem like conceited reasons, the rink users will be profiting more from it. Ice skating on a Glice rink is a great way to create a unique experience that allows bonding time with friends and family.
Furthermore, Glice offers a customizable solution that allows the company to install an environmentally friendly ice rink in settings that seem "impossible" due to weather or geographical conditions.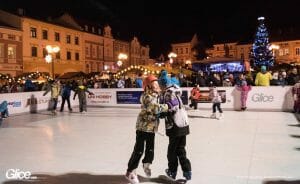 Glice rink at a Christmas Market, Czech Republic
Installing an ice rink for holiday events allows rink operators to create additional revenue by charging for skating, for instance. However, offering an ice rink to the public may also raise sponsorship opportunities.
Choosing Glice for this opportunity is the wisest decision as the company operates globally and locally, with over 60 partners worldwide, offering an even more personalized experience.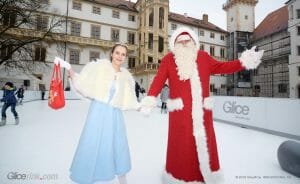 Glice rink at Hartenfels Castle, Germany
Are you interested in discovering why Glice is the perfect choice for holiday event ice rinks? Remember to read our blog post about the ice rink installed in the closest luxurious resort to New York City – the Crystal Springs Resort.