The Manufacturing Process – Polyethylene is not all the same.
Glice's exclusive manufacturing process and materials make the difference.
Glice

Precise Swiss design – The core of a great product starts with its inventors.
Sintering Process – pellets are crushed under high pressure and heat, giving your rinks the ultimate surface for superior durability and glide.
Use high-quality raw materials sourced from a single producer, assuring excellent quality control and an exceptional product.
Ideal molecular weight – Glice rinks are impact and abrasion resistant.
Manufactured in a private, state-of-the-art, climate-controlled facility in Germany, using high precision technology with CNC (Computerized Numerical Control).
Self-lubricating pellets added during sintering process. Mixed evenly throughout the thickness of each sheet. This ensures a surface glide that is closest to real ice than any other rink available.
Designed with a scientifically proven and controlled heating and cooling ratio to make perfect Glice sheets, every time.
Multiple quality control checks at every step.
Competitors

Extruded process (melted pellets) or inferior sintering process.
Use of low-cost raw materials purchased in bulk from unidentified vendors.
Manufactured by machines with limited control.
Most companies share manufacturing facilities in various locations, including China. No climate control also means little control over the product during processing.
Lubrication methods – archaic and inconsistent; many with a topical product leaving patchy and choppy results. Topical lubricants degrade, becoming thin and worn.
Lacking in quality control and product consistency. Shared facilities are take-what-you-can-get and do not give companies much control over their processes and outcomes.
Superior Quality – Why it matters
Glice
Stays whiter longer. Our exclusive manufacturing process assures your Glice rink will not turn yellow.
Glice's Ultra Glide Technology creates the perfect combination of effortless glide and low resistance.
Improves the more you skate! Glice's self-lubricating sheets release emollients as you glide across the surface. No other rink gets better over time!
Ideal balance between grip and glide, perfect for all skating maneuvers. Less blade sharpening – Our rink preserves your blades longer!
Perfectly manufactured tongue and groove connection creates smooth and clean surface on all four sides of every sheet, making the most stable and smooth surface available.
Limited number of shaving/flakes.
Safe and clean skating guaranteed! Smooth connections make for smooth skating. Our seamless connection system prevents critical trips and falls.
Competitors
Discoloring and/or inferior gliding capability.
Sticky surfaces or no grip – inconsistent manufacturing creates a patchy surface texture that is too rough or doesn't allow you to manipulate the surface as you skate.
Stunted maneuvering abilities – uneven skating surfaces disrupt your glide and blade work.
More blade sharpening more often.
Seams are wide-gapped, accumulating dirt and debris between panels.
Increased number of shaving/flakes.
Unsafe skating – Their wide-gaped seams get imbedded with dirt. These connection systems can also create lifting, causing dangerous skating hazards.
Demystifying Synthetic Rink Attributes
Auto or Self-Lubricating? Synthetic ice surfaces require lubrication. Which is the best?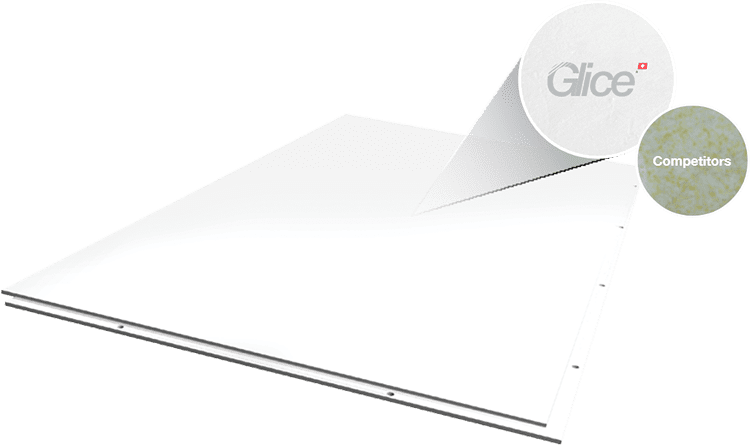 Glice's self-lubricating system is pressed throughout the thickness of every sheet during the sintering process. Lubrication and polyethylene pellets are mixed and then pressed, heated, and cooled to perfection. This process ensures that every sheet contains lubrication integrated throughout the sheet. The more you skate, the more lubrication gets released to the surface, giving you fantastic uninterrupted gliding. That also means that your sheets can be flipped over, doubling your skating!Other companies simply apply a liquid silicone lubricant on top of the surface, creating patchy coverage that deteriorates the more you practice.
No Yellowing!
Glice's pure, high quality raw materials maintain their chemical properties and stability over time. That means our surfaces will stay cleaner and whiter no matter which environment. No yellowing, guaranteed!Other companies will tell you that their synthetic rinks are UV-Protected. While this protection helps, it doesn't prevent their rinks from fading or discoloring. We all know to stay clear of yellow ice. Unfortunately, when their rinks start turning yellow, you are stuck with it forever. There is no way to brighten degraded plastic once it has discolored.
Example of Glice rinks Vs. Low-Grade Plastic
Glice was called to replace this low-grade, unsightly yellowed rink at a hockey facility in Vancouver, Canada. The rink turned color after only 12 months. Glice's incomparable quality product saved the day, giving the Canadian company multiple years of a pristine and beautiful skating surface.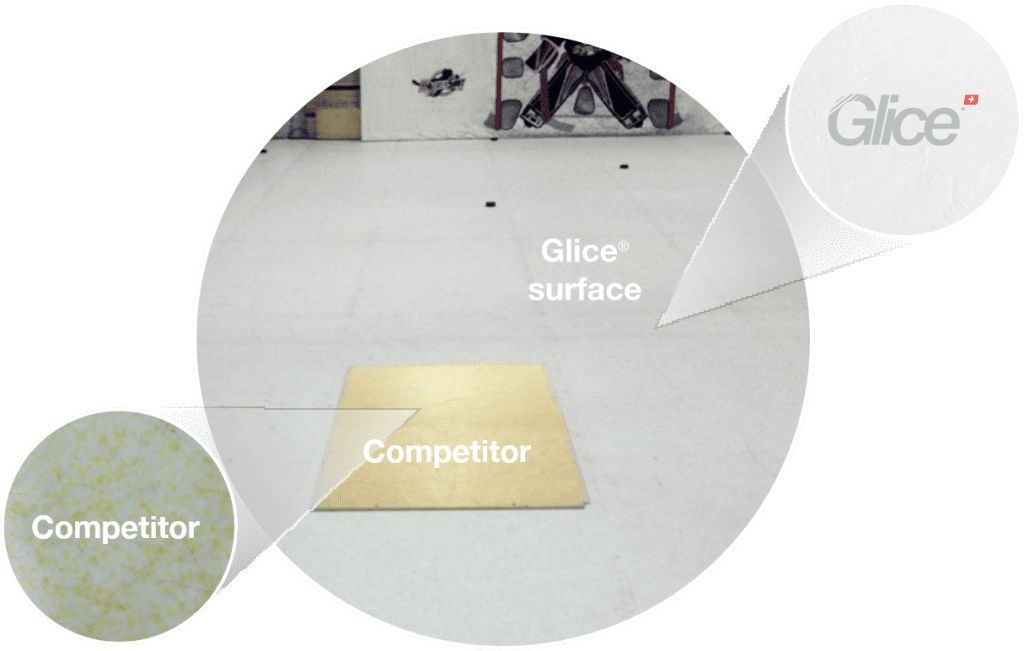 Top notch quality trusted by professionals
" It's such an easy tool to work on your shooting and skills. It's the best way to skate and shoot as if you're on real ice. I use it 3x a week."
— NHL Captain Roman Josi, Nashville Predators
" In my 35 years of experience, l've never come across a surface that mimics ice as close as Glice. It will change the way you think of synthetic ice."
– Steve Serdachny, NHL Skating Coach
" The volume is business has been much greater this year and the response has been phenomenal! Really easy to be to use."
– David Lemmond, Manager William Vale Hotel (NYC)
Why Choose Glice?
Glice sheets are produced from high quality raw materials and exclusively use a single supplier that meets the high standards of purity and quality we require.
Our scientifically proven process assures an ideal molecular weight and impact resistance to ensure long-lasting quality.
Glice sheets are made with technology using the highest pressing capacity. The process assures consistent synthetic ice perfection. Our product is clean, safe, durable, perfectly slick, self-lubricating and stays beautifully white.
Our interlocking tongue and groove connection system creates a seamless surface. We achieve this by using the most modern CNC (Computerized Numerical Control) technology, ensuring tongue and groove joints are precise and flawless.
Quality Control – Our Glice sheets are subject to several quality tests throughout the manufacturing process. Our sheets meet our high standards, giving you assurance of the best synthetic rinks on the market.