Price is always a factor with big purchases. Of course you'd like to know what a synthetic ice rink costs before making a final decision. Whether you're interested in having one for personal or public use, knowing what you're in for up front is key.
Our guide outlines the potential outlay and explains how to calculate the cost of a rink. For added perspective, we've also included a section on the cost savings you can expect from not having to use electricity as well as other benefits you'll enjoy when going the synthetic route.
Let's take a look.
Calculate the Size and Cost of Your Rink
We've made estimating the size and cost of your rink really easy. Visit our Glice home and commercial pages and input the size you think you'd like your rink to be. From there, simply click "add to cart" to see how many titles are required, as well as the total cost for the tiles.
If you're unsure about the size you want or would like to visualize how it will fit in your space, you can always use the rink size calculator. (You'll find it beneath the main image on the left hand side of the sales pages linked above.)
However, we've included a sample breakdown below to give you an idea of what you could expect to spend. For larger commercial rinks, simply select the type of rink you're interested in, add your email address, and someone from our team will be in touch to provide you with a quote.
Glice Home
Glice home sheets are easier to handle and ideal for indoor and temporary outdoor rinks.
2 x 2 ft sheets @ $54,99* each
Commercial Grade
Glice's larger commercial grade sheets are the perfect choice for permanent outdoor rinks and large indoor rinks.
6.5 x 3.2 ft sheets @ $382,50* each
Cost of a Double Garage Hockey Rink
Let's say you'd like to turn your double garage into a hockey rink. Assuming the garage is a standard 16.8 x 16.8 ft in size, to complete the project you'd need 81 Glice home sheets at a total cost of $4453,91*.
Glice Home and Commercial Accessories
We also stock a range of Glice home products for maintaining your new rink, as well as various accessories to enhance your skating experience. We've listed some of our best sellers below, but take a look at our catalog to see everything we offer.
*Prices based on 15% discount, available until March 31st.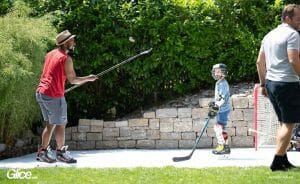 How Much Does Synthetic Ice Cost, Really?
The cost of a synthetic ice skating rink really depends on your particular requirements. The first step is to decide on the size, as this will determine the number of tiles you need to buy. In addition to that, you'll also have to consider what accessories you want (dasher boards, skates, etc.).
If the rink is purely to practice specific skating moves and techniques, then you may be able to get by with fewer tiles. If you plan on using it for speed skating or you need more ice time for hockey training, then a larger synthetic ice surface is optimal.
Keep in mind that while saving money is always welcome, it's worth shelling out for premium quality synthetic ice tiles. Opting for cheap synthetic ice isn't worth it in the long run. It's not as durable and the poorer surface quality makes for a subpar skating experience.
The great thing about going the synthetic route is that you can increase the size of your rink as your budget allows for it. The tiles are easy to add on, so the only limits really are space and money. Remember, a synthetic ice rink is an investment you'll enjoy for years to come. The advantages of being able to skate whenever you want cannot be overstated. Take a look below to see just how affordable it is.
How Much Can You Save With a Synthetic Ice Rink?
If you're still on the fence, perhaps this example will sway your decision. Let's say you decide to invest in a 200 m² home rink, and in your home country electricity costs 0.36€ ($0.35) per kWh.
With a Glice rink, you will be saving 9,600 kWh per month, which amounts to a total saving of 3,454.84 € ($3,350) on electricity thanks to synthetic ice.
This is based on a formula that assumes roughly 1.6-kilowatt hours are used per square meter to keep an ice rink in operation on a daily basis. In our example, 320 kWh would be required daily to keep a 200 m² ice rink operational.
Multiply this number by the average number of days a month, and you get the number of kWh that this ice rink can save per month. In addition to the savings on electricity, synthetic ice rinks also eliminate the need for expensive machinery, like a Zamboni.
Given the current electricity and fuel prices, this might sound like a dream come true. It's certainly a significant incentive to "go green." Especially when you take into account that Glice plants one tree per produced panel with our Skate for the Planet Campaign.
Synthetic Ice vs. Real Ice: Benefits
Year after year, ice lovers dread the change of the seasons and the consequences it has on natural ice. It's no secret that Glice's synthetic ice technology offers the solution to this recurring problem. For starters, they can be used year round, as they don't rely on the weather to be operational. However, there are other advantages that come with installing a Glice rink.
Made to Last
Synthetic ice rinks are known for their durability and longevity, making them an excellent long-term investment. Glice uses a technology that makes the panels reusable for up to 20 years (provided you adhere to our care instructions). Rink owners won't need to invest in a new rink year after year—nor will they have to rent a new one every year.
Better for the Environment
Synthetic ice rinks don't need water or electricity to operate, which means rink owners are able to avoid the exorbitant electricity bills synonymous with conventional ice rinks. And since they're not a drain on resources, they're better for the environment, too.
Cuts Down Travel Costs
Usually, traveling to an ice rink can take up quite a bit of time as there are not always plenty of rinks close by. Investing in a synthetic rink at home helps save time on travel and the costs associated with it, such as fuel prices, public transport costs, and even vehicle maintenance.
Over time these costs all add up. However, they're often not noticeable until you eliminate them entirely. The savings are even more obvious when you decide to rent a conventional rink, which can run anywhere between $300 – $450 (308€ – 460€) per hour.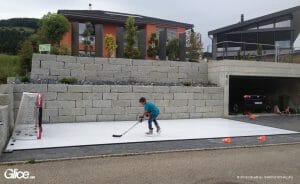 More Time to Train
Home rinks can be installed both inside and outside. If it's raining out, you can still practice your moves in the garage. More training time at home means better results without the need for investing in expensive ice skating lessons in order to improve. Enjoying your favorite sport and saving money at the same time has never been easier!
Saves Time
As welcome as they are, travel costs aren't the only thing you will save on when you have your own rink. We all know how valuable time is. It passes fast, and unlike tangible objects, time is something you can't get back. For a lot of people, time is money.
Without the need to travel back and forth to the closest ice rink, you'll have more time for family and other essential things in your life, such as your job, school, house chores, etc. You could even use that extra time to create a side hustle or invest it in your business–an excellent way to create an additional revenue stream.
Low Maintenance
Glice ice panels are low maintenance. Depending on the frequency of use, it's enough to vacuum them once a day and clean them once or twice a week. This means no resurfacing is needed i.e. no resurfacing breaks or time-consuming installation of the rink itself.
Why Choose Glice?
Glice offers many solutions to your ice-related problems, the most attractive of which is the money-saving aspect. Installing a synthetic ice rink has enabled both private owners and public ice rink operators to cut down on costs.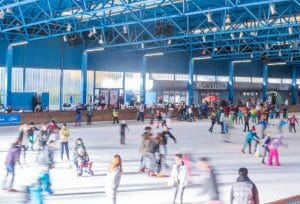 For instance, an indoor ice rink operator in Ludwigsburg, Germany had initially planned to use its Glice rink as a cost-efficient way to offer skating in the summer. However, due to the current energy crisis in Europe, they have decided to operate only the Glice rink this winter.
Are you interested in finding out why Glice is different? Feel free to browse our FAQs and testimonials and read more about why Glice makes a great visitor experience. You're also welcome to get in touch with us so we can talk through any questions or concerns you may have about choosing Glice for your next ice rink investment.