Garages are the ideal place for a home skating rink, except for one small problem. Where will you park your car? We have a solution—park it on top! With our unique cover system you can protect your Glice synthetic ice surface. That way, your rink stays clean…and so does your garage.
When you want to skate, simply pull your car out, take the cover off, and your Glice synthetic ice rink is ready to train on or just have fun with. We have a wide range of skating surface sizes that fit garages of all proportions with no hassles.
You might be thinking that the cover is the easy part, but how do you actually make a hockey rink in your garage? We've got you covered. Our guide will explain step-by-step how to go about it. Let's get started.
How to Make a Home Hockey Rink: Step-By-Step
It might seem daunting, but our synthetic rinks are super easy to assemble. You don't even need any expensive tools. If you rope in the whole family to help, it'll probably go even faster. Having your own indoor rink can provide hours of entertainment for everyone. It also means you can practice your sport whenever you like. Who wouldn't want that?

Step 1: Measure Your Garage
Measuring the area you plan to convert into an ice rink is crucial, as it will inform the size and amount of synthetic ice panels you'll need to order. Once you know the dimensions, you can use our Glice home calculator to figure out how many sheets you need, and then go ahead and place your order.
Step 2: Prepare the Floor
Instead of constantly checking to see when your synthetic ice panels will arrive (we know you're excited), use the time to prepare your garage floor. It needs to be clean and free of debris. For optimal performance, we recommend putting down a foam film of at least 1/6 in (4 mm) in-between the floor and your Glice panels.
Step 3: Install the Synthetic Ice Panels
Our ice panels connect with a tongue-and-groove system, which hold the sheets together. Having tested numerous connection systems over the years, we've found our tongue-and-groove system to be the most robust solution as it creates a strong and seamless surface. We'll include instructions with your synthetic ice sheets, but you might want to order a pin punch and rubber mallet to make the installation even easier.
Step 5: Accessorize Your Rink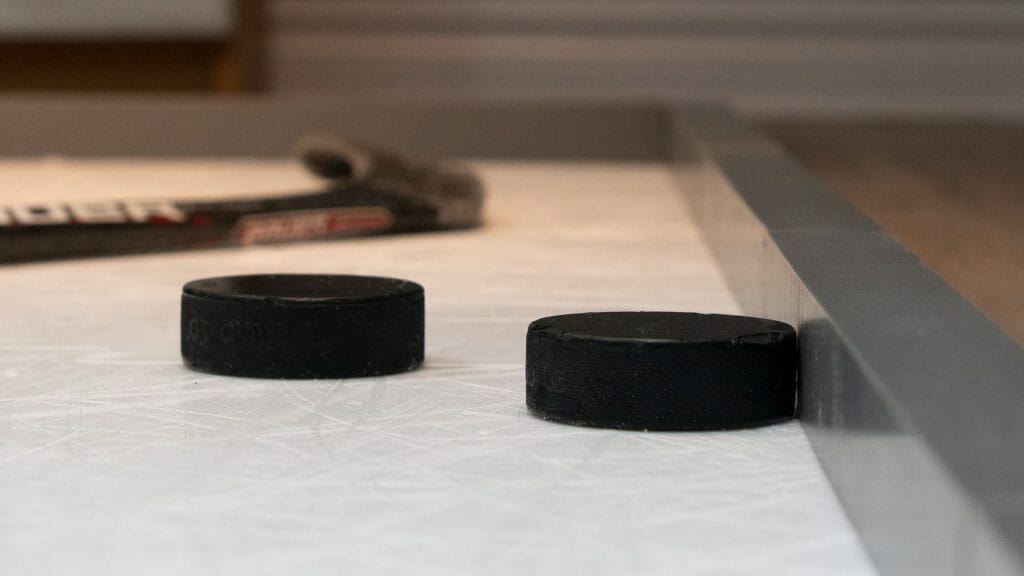 A Glice home mini board can be helpful if your rink doesn't go all the way to the edge of your garage. It's especially handy if you're setting up in a double garage, for example. If you want hockey lines let us know. Using our Crease Embedded Technology (TM), we're able to embed creases and markings directly into the material. Unlike paint, these markings won't fade over time or get scratched away.
Should you prefer to go the DIY route, we recommend using tape for the court markings. We've found that gaffer tape works well if you're looking for a more permanent solution. Otherwise you can use hockey tape or painter's tape for a temporary solution.
Step 6: Enjoy Your Rink!
With the assembly and installation done, it's time to enjoy your hard work. Put on your skates and start having fun. Invite your friends and family over for a game of hockey, or have a go at practicing your moves.

What About Maintenance?
Synthetic ice provides a great surface for playing hockey and it's also easy to maintain. That said, maintenance must be performed regularly to ensure the longevity of your Glice surface. Here's what we recommend:
Low Use
Weekly: vacuum cleaning
Monthly: floor scrubbing
Yearly: pressure washer
Heavy Use
Daily: vacuum cleaning
Bi-weekly: floor scrubbing
Quarterly: pressure washer
Final Thoughts
Creating an ice rink using synthetic ice panels is a great way to enjoy the sport year round. All it takes is a little preparation and effort, and you'll have your very own rink in no time.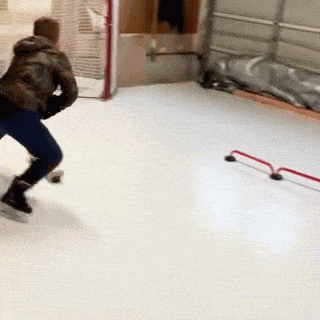 Contact us today to learn how a Glice synthetic ice home rink can be installed in your garage without compromising your skating experience or your parking space! We can explain what synthetic ice is and tell your our thoughts on cheap synthetic ice (and why it's not a good idea).