Ice skating is not only a lot of fun, it's also a great way to stay in shape. The downside of the sport is that getting enough time on the ice to actually get good at it isn't always easy. Going to an ice rink can be expensive and depending on where you live, you might not have one close to you.
If you're serious about honing your skating skills, we've got some tips to help you practice ice skating at home. The good news is, none of our suggestions involve building a traditional ice rink in your backyard.
Take a look.
Practice Ice Skating at Home: 3 Ideas That Don't Need Real Ice
If you can't get to an ice rink to practice your moves, these tips are for you. Some are more cost-effective than others, but we have something for every budget. You can also incorporate more than one of these tips into your home practice sessions at the same time.
1. Use Roller Skates or Inline Skates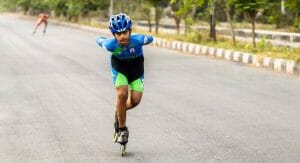 We get that using roller skates or  inline skates isn't exactly the same as ice skating, but they definitely help you work on your skating technique and balance. They're also great for building stamina.
One thing to remember is that ice skates don't have the same breaking mechanism as inline skates. This means you will need to practice stopping without using it, so you're comfortable stopping on the ice when you eventually get to a rink.
2. Practice Balance and Coordination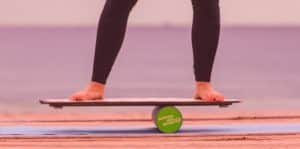 Use a balance or wobble board to work on your balance and coordination. They're not that expensive and you don't need a lot of space to use them either. Balance board workouts are aimed at training the muscles around the ankle, which is especially beneficial for ice skating.
They also strengthen the lower leg muscles, improve posture, and increase your motor skills. If you're looking for an easy way to improve your ice skating skills without actually ice skating, this is it.
3. Install a Synthetic Ice Rink at Home
This idea does require more of a financial outlay, but if you're serious about ice skating you can't go wrong with a synthetic ice rink. Whether you are a complete rookie or an accomplished professional, practicing your ice skating moves at home is a piece of cake with Glice synthetic ice pads.
Easily installed on any flat surface, the pads facilitate practice sessions in your garden, garage, or basement regardless of seasons and climate conditions. Without the need for water or electricity, you can finally enjoy ice skating in the comfort of your own home.
Glice synthetic ice pads offer the industry's most realistic ice skating experience at a fraction of the cost of traditional rink. For the first time, installing a garage hockey rink to practice your skating moves at home is feasible.
Stuck at Home, Local Rink Closed?
The pandemic left many skaters stuck at home with no opportunity to practice their moves. Some, like Patricia Kühne, professional figure skater, choreographer, and winner of the German Cup, were able to continue skating thanks to Glice home synthetic ice.
"It is something I have always wanted and I will forever love—the feeling I get from ice skating is just wonderful and now I have it at home, with Glice," says Patricia.
Thanks to the versatility of our new, smaller and lighter Glice home synthetic ice sheets, figure skaters can now practice just about anywhere, even inside an apartment. The pads are easy to store and transport, too. You can easily put them in a car and take your rink anywhere you like.
"The panels are super easy and quick to set up, so you can start right away. Naturally, there is more than the fun factor to it—I use Glice to get better and it is possible for me to train anytime and improve my skills," says Patricia, who uses her Glice home synthetic ice to practice spins, routines, jumps, and more. She claims she's already greatly improved her rotation and skating speed.
Learn How to Practice Ice Skating at Home With Glice
With Glice, wondering how to practice ice skating at home—whether indoors or outdoors—is no longer an issue. Glice synthetic ice pads are available in four different sizes, accommodating training sessions tailored precisely to your individual needs. What's more, maintenance and cleaning costs always stay at a minimum with our environmentally-friendly synthetic ice.
To learn more about the longevity, durability and maintenance of your Glice synthetic ice pads, check out our post How Long Does Synthetic Ice Last and Other Maintenance Questions for more information.
It's time to revolutionize your ice skating practice with Glice synthetic ice! Place your order now.