Synthetic ice longevity comes down to quality and maintenance. Opt for the Swiss premium quality of Glice, take proper care of it, and your synthetic ice rink could last as long as 30 years.
The remarkable durability of synthetic ice may come as a surprise to some, as there is a common misconception that ice-skate blades cause constant scratching, leading to a decrease in lifespan. This perception is mainly due to a general lack of understanding regarding not only the composition of synthetic ice, but its performance capabilities.
Curiously, the opposite is the case. The more you skate on your Glice rink, the more the surface molecules release their lubricant, enhancing the glide effect even further. In this article we'll discuss the best way to maintain a superior level of glide longterm, as well as answer any other maintenance-related questions you may have about your synthetic ice rink.

How Long Does Synthetic Ice Last?
The lifespan of synthetic ice panels can vary. Factors such as the quality of the material used, the frequency and intensity of use, storage, maintenance, and so on, all contribute to how long it will last.
Depending on the usage, location and level of maintenance, you can expect the life-span of your Glice rink to average out between 12-20 years. Keep in mind though, that all Glice sheets are reversible, which can significantly increase longevity.
Does Synthetic Ice Wear Out?
Yes, over time synthetic ice can wear out. The rate at which that might occur depends on a number of things, such as the quality of the plastic, frequency and intensity of use, how it's stored, and how well it's been maintained.
Excessive use, exposure to high temperatures, and sub-par storage conditions, can all result in your synthetic ice panels deteriorating. Over time they'll become less slippery, reducing their performance and lifespan. Proper use and maintenance are both key to extending the life of synthetic ice panels.
Common Synthetic Ice Maintenance FAQs
Synthetic ice rink maintenance isn't that complicated. When it comes to caring for your plastic ice rink, consistency is vital. That being said, the cleaning materials you use also play a role, as do a number of other factors. Let's unpack some of the more frequently asked questions around synthetic ice maintenance, care, and longevity.
Can synthetic ice be used outdoors?
Some of the cheap synthetic ice brands can only be used inside, but Glice rinks can be used outdoors and in any climate. Be sure to cover your outdoor rink with a tarp when you're not skating, as this helps keep the surface free of debris and reduces cleaning cycles.

What about rain or snow?
Rain or snow won't damage the surface of your Glice rink or reduce its functionality. Simply remove the snow or mop up any puddles of water left over from the rain. You can use a snow shovel or power washer with hot water to get rid of any ice layers.
What maintenance is required?
Overall, maintenance is simple and straightforward. However, it must be performed regularly to ensure your skating experience remains optimal and your rink surface impeccable. Here's what we recommend:
Indoor (Low Use)
Weekly: vacuum cleaning
Monthly: floor scrubbing
Yearly: pressure washer
Indoor (Heavy Use)
Daily: vacuum cleaning
Biweekly: floor scrubbing
Quarterly: pressure washer
Outdoor (Low Use)
Daily: vacuum cleaning
Weekly: floor scrubbing
Quarterly: pressure washer
Outdoor (Heavy Use)
Twice daily: vacuum cleaning
Weekly: floor scrubbing
Monthly: pressure washer
Being exposed to the elements, outdoor installations are inclined to get dirty a lot quicker. We advise covering your outdoor rink with a tarp when you're not using it to maximize longevity.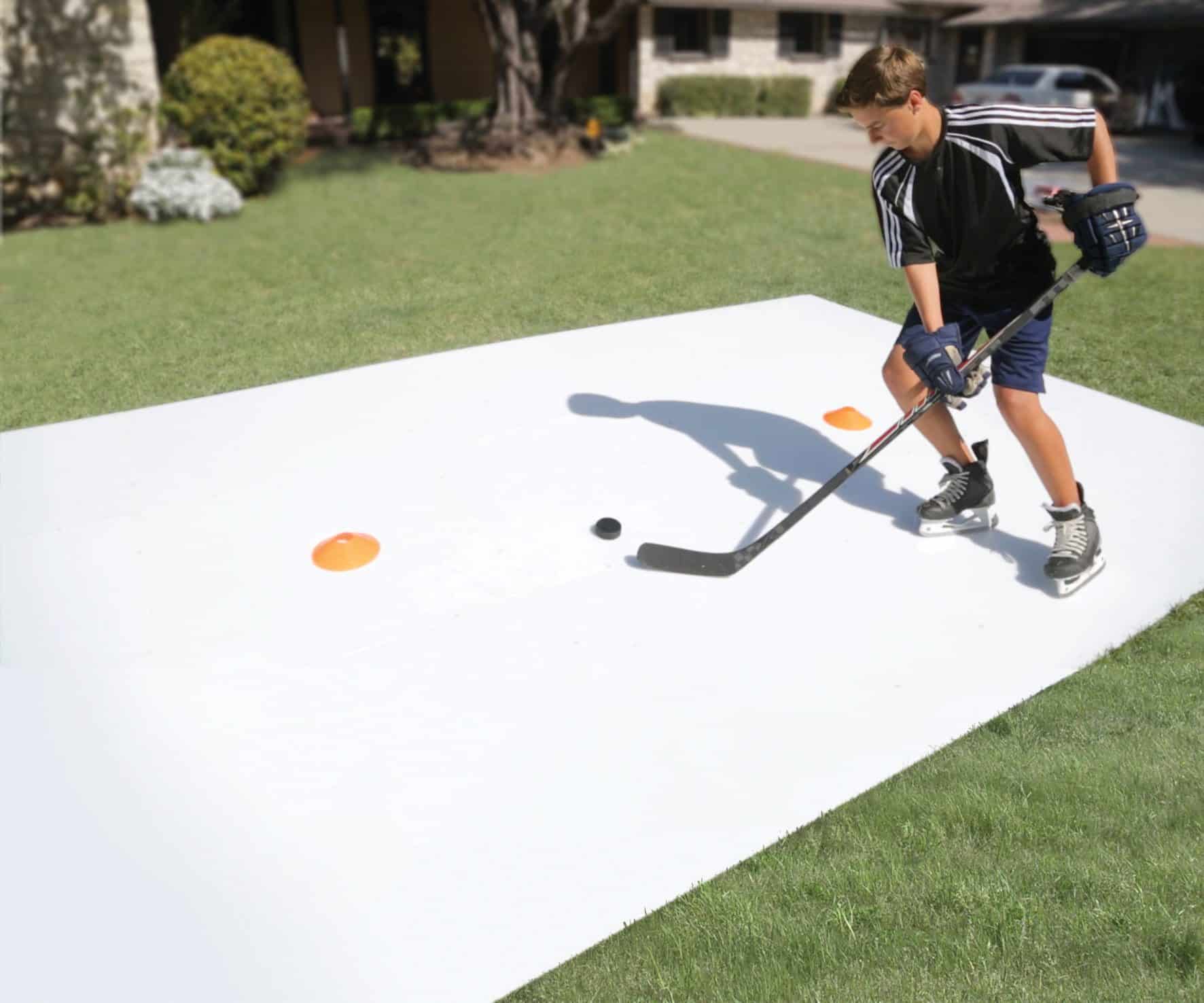 I've noticed some scratches on my synthetic ice panels—is this normal?
Provided you're skating on a top-quality synthetic product like Glice, scratches are nothing to worry about. They won't affect your skating experience or the overall functionality of your synthetic ice rink. Glice synthetic ice is also very high density, meaning the scratches are superficial.
What should I use to clean my synthetic ice panels?
We recommend using a soap like GliceClean that's been specifically designed for synthetic ice, as it will avoid damaging the panels as well as ensure their longevity. Combined with GliceCare, you'll be able to maintain your rink in good shape for many years to come.

Is there a difference between synthetic ice cleaner and synthetic ice lubricant?
There is often confusion around synthetic ice cleaner and synthetic ice lubricant. While both are used in the maintenance of synthetic ice rinks, they have different purposes entirely.
Synthetic ice cleaner is a product used to restore the shine and cleanliness of the rink surface. Applied to the surface of the rink and buffed in a circular motion, ideally using a cleaning machine or mop, the result is a smooth, white finish.
Synthetic ice lubricant, also known as synthetic ice conditioner, on the other hand, enhances the slipperiness of the surface. It is applied directly to the surface using a mister or cleaning machine in order to reduce friction and improve the gliding experience.
Why Glice?
Synthetic ice that lasts—the unparalleled durability of Glice synthetic ice rinks makes them the perfect choice for professional athletes and leisure venues alike.
Not only can Glice synthetic ice rinks last for up to three decades, they are also eco-friendly and affordable! Learn more about synthetic ice technology, visit our online store to view our full product range, or get in touch with us. We're happy to help.