Ice skating has long been a romanticized winter activity displayed by scenic Christmas movies and winter tales. But realistically, only a few people can experience skating on ice, whether on the frozen lake outside or at the local ice arena. It is traditionally a high-cost, energy-consuming activity, even more in regions with typically higher temperatures. With the changing climatic situation, the activity is becoming increasingly scarce. Find out how synthetic ice can change that!
How to make ice skating possible anywhere
The city of Chula Vista is familiar with the above problem. Its´ location in Southern California naturally makes challenging weather conditions for ice rinks. This is why the residents haven't been able to enjoy ice skating for the last ten years. Eli George, president of the local mall, Otay Ranch Town Center, wanted to change that and found the solution with a synthetic ice skating rink. While comparing different providers of artificial ice, he came across Glice and was immediately drawn to the company´s high-quality products.
Why opt for an artificial ice skating rink?
Ice skating is an activity enjoyed by people of all ages, making it an excellent family experience.  For instance, a mall can highly benefit from the visitor flow, as visitors are likely to spend more time eating and buying there. This turns synthetic ice rinks into a great way to increase foot traffic. Read more about Eco-Ice rinks at shopping malls.
Advantages of synthetic ice
The panels are consistently optimized to provide a realistic ice skating experience.
It does not depend on water or electricity.
It is versatile, quick to set up, and easily adapted to different surroundings.
The rink in Chula Vista is installed outside, where people can skate around while taking in the sun. Therefore, what might seem unreal to the eye has become a very well-received attraction in the city.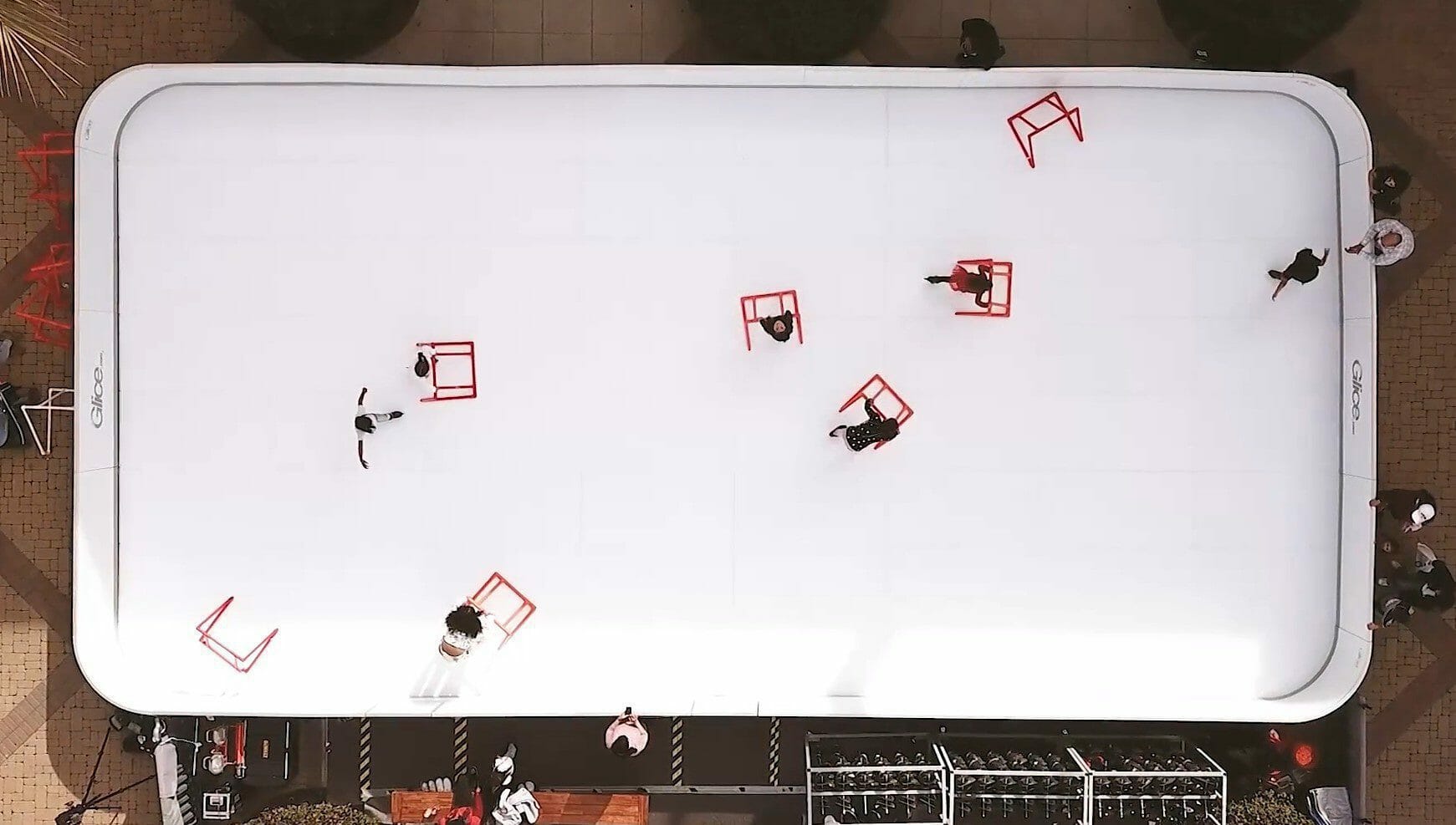 What finally convinced Eli George to purchase the 1.323 ft² (120 m²) Eco-Ice rink was that while saving on maintenance costs, he would also act ecologically friendly, an essential issue for the city´s inhabitants. Glice cares about its environmental impact, which is why additionally, with every synthetic ice tile produced, a tree is planted to offset emissions. While the customers at Otay Ranch Mall appreciate that the new ice rink in town is environmentally friendly, some are surprised by how smooth the skating experience is on the fake ice. The panels can be used for many years, making them a long-lasting highlight for any venue. Chula Vista proves that Ice skating is not just meant for the winter; it can be an all-year-round activity accessible to everyone!
Are you interested in how we can adapt a rink to your venue? Contact us now, and we will gladly give you detailed information.