Glice® ecological ice skating rink
Ice skating on Glice® synthetic ice gives the joyful feel of real ice skating
Glice® synthetic ice rinks don't need electricity nor water and as a result are very profitable
Glice® artificial ice rinks are 100% mobile, quickly set up and stored

Swiss engineered full-component Glice® package. Guaranteed premium experience and smooth operations.
Glice® compenents are engineered with the utmost quality and include a large suite of products such as Glice® ice skates, Glice® sharpening machines, Glice® cleaning machines, Glice® skate shelves and Glice® rubber floors.
Glice® synthetic ice rinks
around the world
How to get started?
To have a successful Glice® leisure artificial ice rink project you need a good location, top quality products and a professional planning. Want to know more aboout the process of acquiring a Glice® synthetic ice skating rink? Let our leading experts help you.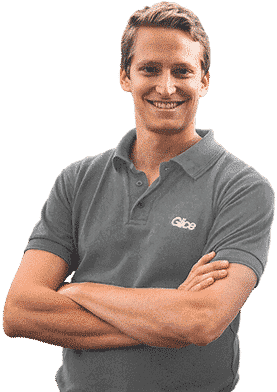 The perfect leisure ice skating rink for your venue
A successful and profitable synthetic ice rink is achieved by several factors. First and foremost, the plastic ice rink must be of highest quality. Let Glice® help you to meet the high demands of your customers, which will ensure that they enjoy ice skating and will return to your venue! READ MORE
Synthetic ice skating rink for ice skating schools
Portable plastic rink solutions for outdoor events such as Christmas and holiday events, shows, etc.
Small to large-scale community artificial ice skating rinks
Summer option for conventional ice rinks
Permanent and temporary ice skating rinks at Hotels, Resorts
Zoos, Leisure parks and shopping malls