Glice rinks are the world's premier synthetic ice rinks. When you install a Glice rink, you'll have the same extreme glide and superior quality preferred by professional and Olympic skaters from 85+ countries. Crush your competition by getting ahead of the curve with endless ice-time practice!
What's it like to skate on near-ice perfection? Don't take it from us. Read these testimonials from pros around the world who prefer Glice rinks over any other artificial ice rinks available. Glice also holds the most major facility and event contracts in the world. The globe's leading hockey equipment manufacturer, CCM, uses Glice for their test facility in Montreal, Canada – the planet's most advanced hockey performance lab. We've also installed the largest artificial rink in the world in Mexico City's Zocalo Square! Ice is nice. But Glice is now preferred for many skating solutions.
Say Goodbye to Traditional Backyard Ice Rinks!
Now you can have the premium quality synthetic ice surface in your backyard or inside your very own home. Glice offers the same exceptional quality to meet either need. Our indoor home rinks can be placed in your garage, basement, or anywhere you have a flat space. Our outdoor rinks can also be expanded to any shape or size, providing a more permanent option. If you install our commercial-grade panels in your garage, they are durable enough to park your car on top of them!
Glice Rinks are easy to install and have hassle-free maintenance, with a self-lubricating surface that improves the more you skate! Whichever option you choose, indoor or outdoor, you can be skating year-round! That means no messy clean-up, evaporating ice, high water bills, water waste, a need for freezing temperatures, or resurfacing that requires lots of elbow grease. Glice is the way to go!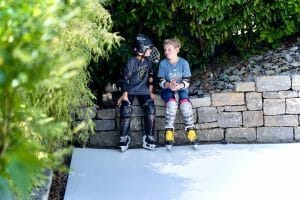 Indoor or Outdoor – We've Got You Covered
We offer a choice between indoor home rinks and commercial grade outdoor rinks — both manufactured with the same exceptional Swiss engineering process known for its precision and superior quality.
Indoor
Our indoor Glice Home Rinks use a sophisticated Smart Lock system that easily snaps into place. They are also 100% mobile, enabling you to break down your indoor rink and place it in storage when not in use. You can also rearrange your indoor sheets to adapt to the size and shape that fits your needs at the time you need them. Our rinks are smart and easy to use!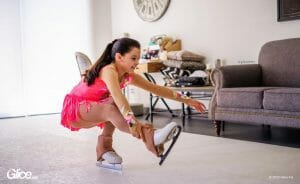 Outdoor
Our outdoor Glice rinks use a superior commercial-grade tongue and groove system offered exclusively for outdoor use. The tongue and groove system locks your sheets on all four sides securely into place, preventing spontaneous lifting due to temperature changes. The system also prevents dirt and debris from lodging in between the artificial ice sheets. That is important for outdoor rink maintenance and skating safety. Glice is the only product on the market that offers this exceptional system.
Glice outdoor rinks offer additional options like dasher boards and our official Marking
Technology that embeds colorful marks deep into the synthetic ice sheets, meeting NHL and IIHF standards. If you have the room in your backyard, an official rink could be yours! Go big or small. The options are endless. BUY NOW!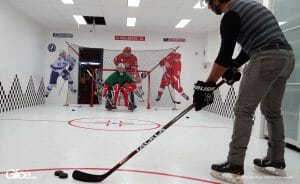 Glice Rinks are Adaptable and Customizable!
With Glice rinks and practice pads, you have total control. There is no limit to size or location. You can install new sheets at your convenience to expand your surface size. Additional sheets for expansion are always available at our U.S. warehouse, making them the perfect gift for holidays and birthdays.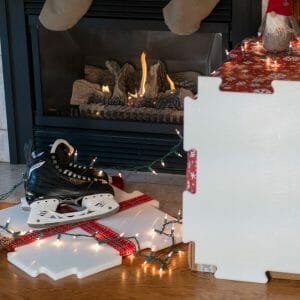 Hockey, Figure Skating, and Leisure Skating — Beginners to Professionals all Prefer Glice!
Now you can gain a competitive edge with unlimited ice time at home. Hockey players all over the world can't stop talking about Glice rinks and how their endless available skate time has improved their skills. From stick handling to drills, it is the most requested home synthetic ice product on the planet.
Figure skaters can practice their maneuvers, jumps, and spins, all day, every day, giving them extra time on the ice. No more looking at the clock to see when your rental time ends! Your figure skater can continue to practice to their heart's content.
For leisure time, everyone can enjoy skating with friends and family any time of the year. All you need is a pair of skates and you're immediately having ice time fun!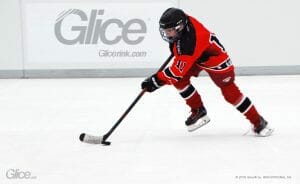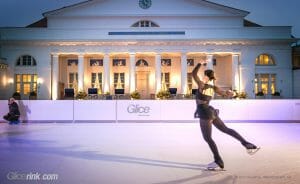 Glice Rinks — The Best Synthetic Ice Rink Available Today!
Swiss Designed Glice Ultra Glide Technology – We have designed a perfect combination of glide and grip, making our rinks the fastest and least friction synthetic rinks in the world. It's like skating on real ice! That's because Glice rinks use a manufacturing process called "sintering" where pellets are crushed under high pressure and heat, giving your rinks and pads the ultimate surface for superior durability and glide. It reduces ice shavings and blade abrasion making it the only synthetic rink that keeps blades at an optimal sharpness for longer skate times.
Sintered vs. Extruded Process
Why It Matters
Glice – Sintered Process:
Pellets are crushed under high pressure and heat.
Self-lubricating pellets are added during the sintering process. Mixed evenly throughout the thickness of each sheet.
Improves the more you skate.
Ultra-smooth surface.
Extreme glide.
Abrasion resistant.
Stays whiter under all conditions.
Preferred by pro hockey players, figure skaters, and companies in 85+ countries.
A highly controlled manufacturing process at a private facility in Germany.
High quality and valuable manufacturing process.
Exclusive Swiss design — precision, simplicity, and the most superior quality product available.
Others – Extruded Process:
Inconsistent, uneven surface.
Nonuniform distribution of lubrication, creating patchy coverage.
Inconsistent, choppy glide.
More abrasions and shavings.
May turn yellow over time.
Less preferred due to slower glide and inconsistent surfaces.
Most other companies share manufacturing facilities in various locations, including China.
Lower quality processing (extrusion) produces a lesser product.
Overall inferior quality from other companies.
Smart Design
Glice Smart Lock System and Commercial Grade Interlocking System:
Commercial Grade: Tongue and groove connection Home Rinks: Smart Lock System
Locked on vertical and horizontal sides, making an extra strong connection.
Does not lift or separate.
Clean and impeccably smooth across the surface.
Safe skating!
Other's Puzzle Piece System:
Unreliable dovetail connections.
Connected only at horizontal ends.
Tends to lift and separate when exposed to outdoor temperature changes.
Collects dirt and debris in between grooves as tiles lift and separate when exposed to outdoor temperature changes.
Hazardous skating if tiles lift and separate, causing trips and falls.
Easy Installation
Glice Rinks offer simple and quick installation. Lock the sheets in place and you are ready to skate in minutes! All you need is a smooth surface and a rubber mallet. No major tools are required!
Thick, Reversible Sheets and Expandable Rink Sizes
Our rinks and pads are made from the thickest and most durable tiles available, giving you years of use. They are heavier, eliminating shifting and wobbly surfaces. Plus, our Glice rinks are reversible, allowing you to flip sheets over and use the other side, doubling the life of your rink! You can also enlarge the size of your rink at any time by adding on extra sheets. Additional Glice sheets are the perfect gifts for holidays and birthdays!
Glice Home (indoor): 0.4" / 10mm thick (2×2' (60x60cm) tiles).
Glice Commercial Grade (outdoor): 0.5"/13mm thick (3.2 x 6.5' (1x2m) tiles).
No Zamboni Required!
Maintaining a Glice rink is simple and inexpensive. All you need for upkeep is to vacuum regularly, wash occasionally, and power-wash once a year. A regularly quick application of a thin coat of Glice conditioner is suggested to keep your panels in excellent shape. Buy Now!
Added Value
If you are tired of making multiple long-distance roundtrips to your nearest traditional ice rink, a Glice rink will keep your sanity. You'll save on time, extra auto maintenance, gasoline, and daily rental fees. If you have an ambitious hockey player or figure skater in your family, that means you'll be spending less time as a taxi driver! Your skater can spend more time effortlessly practicing at home. All of this adds up to more money in your wallet.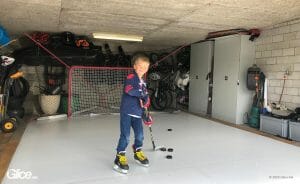 Save the Planet with every Glice Tile You Install
While Glice rinks are a great convenience, you'll also be helping the environment. Not only are our rinks eco-friendly because they are waterless and don't use energy, but we'll also plant a tree for each Glice sheet you purchase. With the help of Plant for the Planet, each tree is planted in a deforested area to help offset the carbon footprint we make in our manufacturing process. You'll be making a great investment in our planet's future!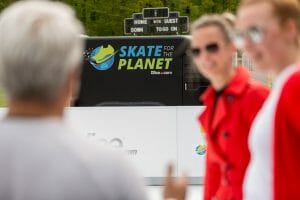 What Size Glice Rink is Best for You?
Your home or outdoor commercial Glice rink can be made to any size and shape you want. The choice is yours! We have a convenient calculator available to help you determine the size that best fits your needs here.
Examples of suggested sizes:
Hockey shooter Pad – 13 x 9.3 ft. up to 19.3 x 19 ft.
Garage Size – 16.8 x 16.8 ft.
Backyard Pro – 29.6 x 14.9 ft.
Speedy delivery
You can have a rink at home within 7 days! As soon as you place your order, our team will work quickly to get your Glice rink delivered straight to your door. Our large warehouse, located in Denver, CO, is always fully stocked with everything you need when you need it.
Exceptional Customer Service
Have more questions? Get a quote online and/or speak to one of our representatives. We are available to provide all the answers you need!