Like any other big purchase, weighing the cost of an ice rink is an essential step that no one should skip when investing in their rink – let it be for personal use or when offering it to the public.
Year after year, ice lovers need to suffer the change of the seasons and the consequences it has on natural ice. This applies to all ice skaters and rink operators who make a living with their ice rink.
Well, it is no secret that Glice's synthetic ice technology offers the solution to this recurring problem. But, other advantages that come with a Glice rink are the saved costs.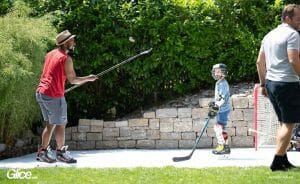 Synthetic ice rinks have durable and longevity characteristics, which means that investing in such a rink is an investment in the long run. Glice uses a technology that makes the panels reusable for up to 20 years (when taken care of according to Glice's instructions). Rink owners will not need to invest in a new rink year after year – nor will they need to rent a new one every year.
Moreover, Glice is an entirely environmentally friendly company that produces rinks that do not need water or electricity. Thanks to Glice's sustainable aspect, rink owners are able to save on the byproduct of conventional ice rinks – the exorbitant cost of electricity.
Let us take a look at an example. Imagine you decide to invest in a 200 m² home rink, and in your home country, the electricity cost is 0.36€ ($0.35). With a Glice rink, you will be saving 9,600 kWh per month, and with that, 3,454.84 € ($3,350) on electricity thanks to the synthetic ice. These figures are obtained through a formula that says that every day, about 1.6-kilowatt hours are used per square meter to keep an ice rink in operation. In this case, 320 kWh would have to be used daily for this 200 m² ice rink. And if you multiply this number by the average number of days a month, you get the number of kWh that this ice rink can save per month.
Additionally, there is no need to invest in expensive machinery, like a Zamboni, for maintaining the synthetic ice rinks. This might sound like a dream come true considering the current electricity and fuel price increase… we could probably see this as one of the most significant incentives to "go green" nowadays.
Usually, traveling to an ice rink can take up quite a bit of time as there are not always plenty of rinks close by. Investing in a synthetic home rink helps save time on travel and the costs associated with it: fuel prices, public transport tickets, and even possible vehicle repairs that need to be done due to its frequent use. All of these costs end up adding up, and they are usually not noticeable until you cut them out entirely, especially when you decide to rent a conventional rink; the costs could be between $300 and $450 (308€ – 460€) per hour.
But, the travel cost is not the only thing you will save on when having your rink. We know that time is valuable. Time passes fast. Time is something that we never get back, unlike tangible objects. And to some people, time might even be money.
Therefore, not wasting time traveling to the nearest ice rink will allow you more time for family and other essential things in your life, such as your job, school, house chores, etc. Glice ice rink owners can productively use that extra time by creating a side hustle or investing that time in more work – an excellent way to create an additional revenue stream.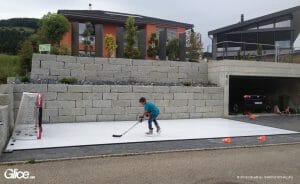 Coming back to having more time to train, Glice ice panels are low maintenance. It is enough to vacuum them once a day and clean them once or twice a week (depending on the frequency of the usage). This means no resurfacing is needed, i.e., no resurfacing breaks or time-consuming installation of the rink itself.
More training time at home means better results without possibly investing in expensive ice skating lessons to progress in the sport. Enjoying your favorite sport and saving money at the same time has never been easier!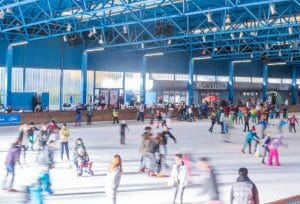 Glice offers many solutions to your ice-related problems, and one of the most attractive ones is the money-saving aspects of synthetic ice. We have seen that home rink owners and public ice rink operators can all cut down on costs with a synthetic ice rink. An example is an indoor ice rink operator in Ludwigsburg, Germany that planned on using its Glice rink as a cost-efficient way to offer skating in the summer, but given the current energy crisis in Europe, they have decided it will be the only thing operating this winter.
Are you interested in finding out why you should choose Glice for your next ice rink investment? Read more about how Glice makes a great visitor experience here.