It is true; New York really is the city of opportunities. Try to find something you cannot do in New York City… even ice skating on a rooftop is possible there.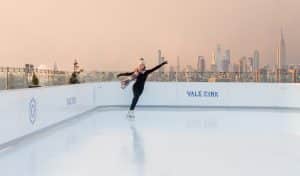 With a synthetic ice rink and the help of Glice, The William Vale Hotel has made it possible to skate while enjoying the sweeping skyline of the city of New York. This rink is located at the top of the William Vale Hotel in Brooklyn, a hotel that is now offering an authentic experience with a phenomenal view.
This project has allowed the hotel to distinguish its visitor's experience, and it has also proven that Glice synthetic ice rinks are the perfect installation for rooftops! Why you may ask? Not only does the light weight of the artificial ice panels allow an easy and considerably fast installation on a rooftop, but it is also very easy to use. Furthermore, Glice rinks do not require any use of water or electricity, neither for the installation nor the use of synthetic ice rinks, which is very practical when placed on a rooftop. Due to this reason, building a Glice rink is also far more affordable than conventional ice rink installations. No wonder The William Vale hotel chose to offer this unique skating experience with panoramic views over Manhattan!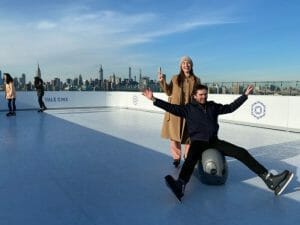 © Brooklyn Paper
"The response has been phenomenal, and our Glice rink has experienced much larger traffic in 2020 in spite of Covid measures that we had to implement."
David Lemmond, General Manager of The William Vale Hotel
This is not only due to the unique ice skating experience with an openly panoramic view over the city of New York but also to the other services offered alongside the Glice ice rink. It is true that ice skating can be pretty exhausting, and you usually get off the ice starving… The hotel has come up with the perfect solution to that. Besides offering safety for the guests with private chalets, visitors can also enjoy a menu with plenty of comfort food (from mouthwatering burgers to scrumptious fondues), a variety of seasonal cocktails, or simply a hot chocolate to warm up after skating with an incredible view onto the Manhattan skyline.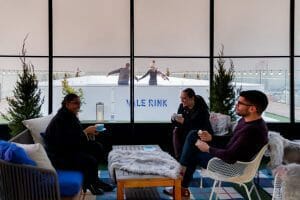 © 6sqft
This Glice Rink on the 23rd floor of The William Vale Hotel is open to the hotel guests as well as to the general public, who would love to take in the remarkable vista of New York City's first rooftop ice rink. As it is a seasonal ice rink, it is recommended that you contact the hotel to confirm the rink is open before showing up.
Who would not like to enjoy a fantastic view like this while standing on ice skates on a truly environmentally friendly ice skating rink? It is an entirely unique way of viewing a timeless image of the New York skyline.