Shopping Centers across America are under pressure as they face a massive shift in consumer buying habits. With the dominance of online retailing, and greatly reduced shipping times, it is little wonder around 96% of Americans utilize online shopping in one way or another. As a result, Shopping Centers are trying to figure out how to reinvent themselves in order to stay relevant to the individual shopper and their communities.
Owner/operators of centers are looking for new ways to attract shoppers and make their properties a social gathering place for the immediate community. Glice offers an innovative solution that can help address this need. As the global leader for premium Eco skating rinks, Glice offers the experience of skating on ice without all the power, water, and resurfacing needed to make refrigerated ice.
A Glice skating rink is a family-friendly and unique attraction that draws people from the surrounding community for recreation, relaxation, and the novelty of skating in parts of the world that simply have no ice rinks. Schools, community groups, and youth sports leagues will want to visit regularly and skate, increasing the shopping center's visibility in the local markets. Shoppers now have a whole new reason to bring family and friends to a local shopping center.
Glice rinks are easy to operate and can be installed in many available spaces inside or outside the property. Add retail engagement by creating tenant promotions that offer free skating coupons for admission to the Glice rink if a visitor stops into one of the centers' retailers. The Glice dasherboards and banners around a rink also provide store branding and messaging opportunities that can generate additional revenue.
Glice USA, Inc. is a proud member of the International Council of Shopping Centers and will be exhibiting at the ICSC RECon Conference May 19-22 at the Las Vegas Convention Center. Please visit our booth (N3158Y) located in the North Hall marketplace. See how Glice can energize the shopping experience. We will have 20'x20' Glice rink with skates for you to demo and see Glice in action. You can also schedule a meeting with us by contacting us here.
Learn more about Glice at https://www.glicerink.com/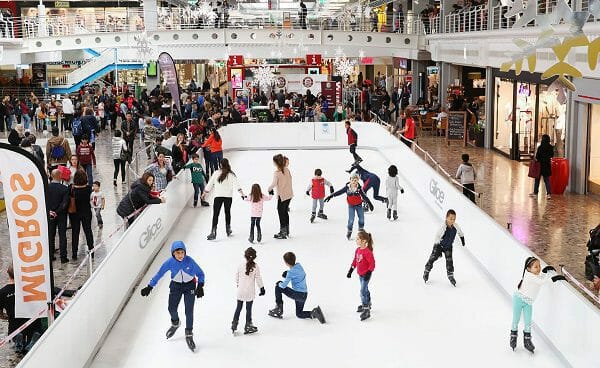 #ICSC #RECon #Las_Vegas #Shopping #Skating_shopping #Iceskate_Shopping_Center